The never ending love for Mithai
There isn't a single Pakistani who doesn't love mithai. Mithai is exceedingly popular in Pakistan and everyone loves it and it is seen and eaten in many occasions, festivals, visits or casually.Mithai is an important part of Pakistani culture and tradition.Mithai is eaten on several occasions. Such as Eid, Birthdays, Weddings, Anniversaries and many more. It won't be wrong to say That Mithai has the power to unite all Pakistanis. The sweet confectionaries of the subcontinent are not only popular in Pakistan but also in the subcontinent.
The most popular mithai in Pakistan include the gulabjaman, rasmalai, rubric, burfi, chum chum. Mithai can also bring memories from a person's life, and thus eating mithai can be called as a nostalgic experience for many individuals. Sugar is used in large amounts to make mithai, other ingredients include milk solids, milk, dry fruits, nuts, roasted seeds, and several more. MIthai are also made in different ways, some are cooked while others are fried, and while some are roasted
History and culture of mithai
In the history of the subcontinent the Mughals are also known to eat mithai as part of their desserts which include gulabjaman, barfi, jalebi, shahitukra. If we write a book on Pakistani culture, and do not dedicate a whole chapter to mithai and sweets, it would be unjust, and the book could not be deemed complete. MIthai is undoubtedly an inseparable part of Pakistani, culture, tradition and history and no can deny it.
Even in Mithai there are several varieties, and different kinds, and thus everyone usually has a favorite, personally my favoriteMIthai is the juicy gulabjaman with its unparalleled sweetness and aroma, which is a spherical soft ball, which is usually small enough to be devoured in one bite and, the rosewater syrup in which the gulabjaman is covered makes the taste and flavor to increase by a factor of ten. This deep fried dumpling with its golden color is also pleasant looking to the eye. There are a large number of types of Mithai in Pakistan and it would be exceedingly hard to list all of them.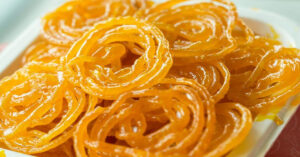 The crispy and mouthwatering Jalebi with its attractive golden hues is fried in deep oil, and exceedingly sweet. Eating crunchy Jalebi can be nostalgic for several Pakistanis, as many memories can be connected with them and the honey like juice has a divine taste when it touches the tongue.MIthai is found in sweet, and bakery shops in Pakistan very easily, and they can also be made at home with a bit of effort and skill. Some MIthai are easy to make while other can be a challenge but the end result is mostly rewarding and appetizing.
There are also several kinds of halva which come under the classification of mithai, these can include gajarkahalwa, lokikahalwa and many more. There is a special halva from the city of Multan called sohan halva which is exceedingly popular and is found in sweet boxes very frequently. Halva are definitely a treat to eat as they are super soft and they don't just finish in a couple of bites. The buttery texture and smoothness is can make anyone who eats it crave for a second helping. In the ingredients of Halva milk products, milk, and saffron can be notable and cardamom is also used for flavoring purposes.
A very commonly eaten sweet is barfi, which is almost, always present in a gift which includes mithia, thus it can be named as the most commonly seen sweet in Pakistan. Barfi is made from dense milk. The name barfi comes from the word barf which means snow, thus the word barfi is a concise explanation for themithai and a good name for it.
There is another famous Mithai which is the chum chum, whose taste is similar to gulabjaman, but the difference is evident in the color which is a snowy white and even in some cases it is colored a light hue of pink, or a sunny yellow.
In most cases mithai is not just left plain, but like a donut or a pizza it also has traditional toppings such as crushed coconut, chopped nuts which can include pistachio, almonds, walnuts, and it can also include peanuts. Though these toppings can be different according to the maker's choice, or the bakery which sells the sweets.
A gift other than mithai? Not possible!
Be it a child's birth, someone's birthday, graduation or possibly any other event, the first treat, gift, or present that comes to the mind of every Pakistani is definitely and undeniably mithai. This explains the special place that MIthai holds in the hearts and minds of Pakistanis. Thus this wouldbe right to say that the best gift for almost any occasion is none other than mithai, and every Pakistani unofficially agrees with this. If you want to gift Mithai to your loved ones, but cannot due to long distances, there is no reason to worry as all you have to do is to head over to our website GIFTSPAK where we have several kinds of Mithai for you to choose from. We have ladoo, barfi,arbi halva, anjeer halva, anjeerbarfi, andaqalaqand, rasmalai, rabri, chum chum,rasgulley, gulabjaman, and various more. Our services are available in several of Pakistan's major cities, so you can easily get your chosen mithai delivered to your friends and family. All it takes are a few clicks, you won't even need to break a single sweat and simultaneously you can bring a smile on the faces of your dearest people.
Mithai can definitely make them remember special moments with you, and memories easily come flowing back with just one bite of mithai. The right thing to say is that Mithai is an indivisible part of us, our occasions, events, history, tradition, and visits. The sweetness of mithai has no completion and, many people in Pakistan prefer it over even chocolate and other sweet snacks.
Article By Aayan Rasool Khan